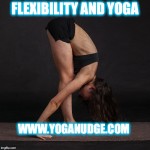 Welcome to Day 6 of the #AtoZChallenge.
My theme for this challenge is No Excuses.
Flexibility and Yoga
Are you using a lack of flexibility as an excuse for not trying yoga?
If you can't bend over and touch your toes, you may think yoga is not for you because you need to be able to bend yourself into pretzel shapes, stand on your head, or balance on one foot.
True, many people who practice yoga can do all those things. But it doesn't mean you have to.
One of the good things about yoga is that you can start wherever you are.
And, with continued practice, you will get better.
If you are inflexible now, no worries. Over time, you'll become more flexible.
I'm not saying you'll ever be able to twist yourself into some of the more complicated poses. I sure can't.
But you will be able to bend and reach just a bit farther than you can right now.
And, surprising as that might seem, just a little bit of improvement can be quite thrilling.
In fact, that's all I strive for – just a bit of improvement day after day.
When I see someone who can literally fold themselves in half, part of me is a bit envious.
But I don't give up yoga because I can't do that.
Instead, I take joy in the fact that I am just a bit stronger and just a bit more flexible today than I was yesterday.
In that way, yoga has also helped me become more at peace with who I am and the body I inhabit.
And I'd say that's just part of the amazing power of yoga.
So don't think of excuses not to try yoga.
Just get started.
Namaste,
P.S. Click here to read other posts for #AtoZChallenge.