Do You Think Yoga Practice is Too Complicated?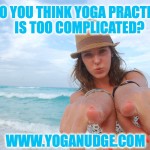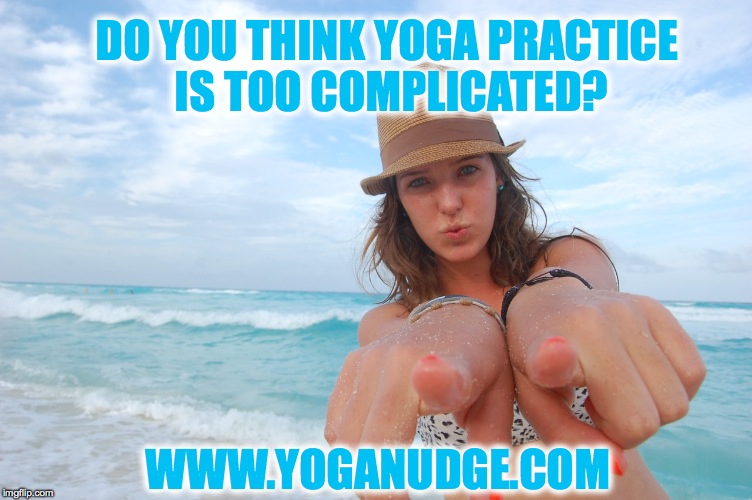 Welcome to Day 3 of the A to Z Blogging Challenge.
Today's Post is for the letter C.
My theme for this challenge is No Excuses – as in no excuses not to exercise regularly, eat right, and generally take care of yourself so you can live your best life.
So, here's an excuse many people use to avoid trying yoga.
Yoga is Too Complicated!
For years I was hesitant to try yoga.
It just looked too complicated.
So many different poses with names I couldn't pronounce.
So many different types of yoga. Which one should I choose?
And should I try a class or just watch a video?
Finally I realized that I was the one making things complicated.
So I decided to just give yoga a try.
First, I bought a set of basic yoga videos.
It was called A.M. P.M. Yoga with Rodney Yee and Patricia Walden.
Next, I bought a yoga mat and rolled it out in front of the tv when no one else was home, then I turned on the yoga tape.
I didn't even try following along with the poses on the tape the first time.
I just watched the video all the way through.
I remember thinking – Hmm…This doesn't look as complicated as I thought. I think I can do this.
So the next day, I turned on the tape again.
This time I didn't just sit on my yoga mat and watch the tape.
I followed along and tried the poses.
And it was fun!
I also remember feeling so proud of myself when the tape was finished and I had actually tried yoga for the first time EVER!
Since that time many years ago, I've come to realize that yoga is a lot like anything else.
It can either be complicated or quite simple.
It's up to you.
My suggestion is, just get started, and keep it simple at first.
Later, when you're ready, you can try the more complicated poses, and develop a more complicated practice (if you like).
However, you can always just keep it simple.
Like I said, it's up to you.
Just don't use "it's too complicated" as an excuse not to get started.
Try it!
Namaste,
P.S. Do you get my newsletter, Yoga Nudge? If not, sign up in the boxes in the right corner of this page. You'll also get my free e-book, Why Yoga: What Yoga Can Do for You.