Slow Down Aging, 5 Top Tips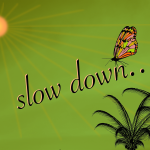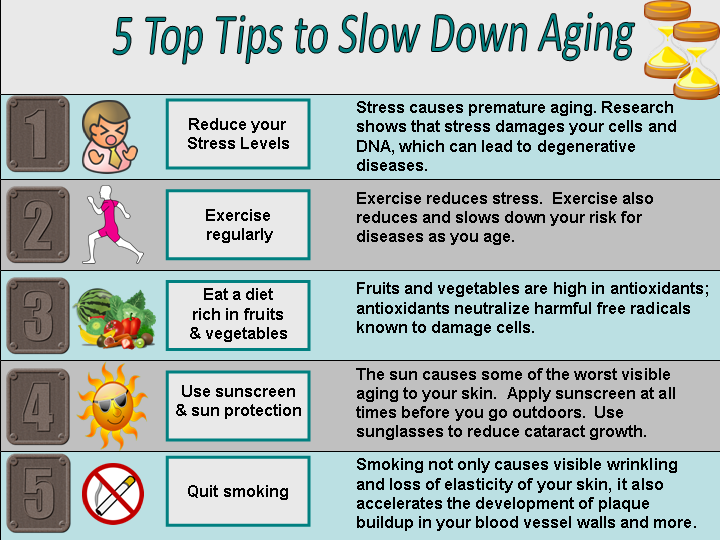 These 5 top tips to slow down aging are probably no surprise.
They just make sense.
Yet, it isn't always easy to follow these top 5 tips.
For me, no. 5 is easy because I have never been a smoker.
I also use sunscreen and sun protection regularly, especially when I'm living in Florida. I see too many people down there whose skin looks like an old leather handbag. Not the look I'm going for as I get older.
I'm usually able to keep my stress level manageable, too. If I get too stressed, I cut back on work or other actions that seem to be making me feel frazzled, too tired, or tense.
But I struggle with tip #2 when I'm in Tennessee because it's not that easy to exercise here. It's usually either WAY too hot, too rainy, or too cold to get outside much. And I love to exercise outside, if possible. So, while I'm in Tennessee for a few more months, I'm trying to practice yoga regularly, take walks when the weather cooperates, and I bought a rebounder (I had one years ago but sold it at a garage sale before we moved to Florida) so I can listen to music while I get a little cardio workout.
When I'm in Florida, I find it easier to exercise regularly. Especially at the beach. My husband and I take long walks on the beach each day, play tennis, ride our bikes, and swim.
Tip #3 is always a challenge for me, too. I either eat a lot of veggies but few fruits or I go overboard on fruit, then don't eat many veggies.
Lately, I've been combining fruits and veggies in my Nutri-Bullet to make smoothies.
This is the easiest way to eat several servings of fruits and veggies all at once.
I also try to eat an apple every day as a midmorning snack.
Which of these top 5 tips is the most difficult for you to follow?
To Your Good Health!
P.S. Get your free subscription to the Yoga Nudge newsletter, filled with tips to help you lead a healthier, more active and enjoyable life! See the right sidebar of this page.